SFCC Summer Camp 2022 - Bishop, CA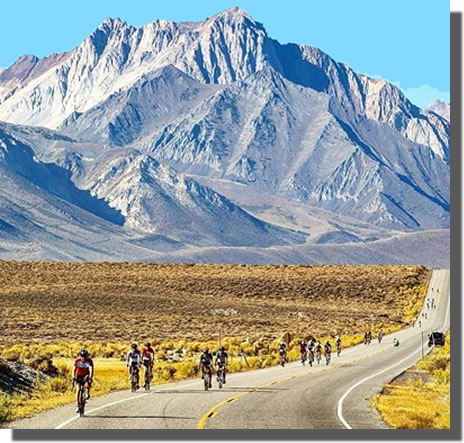 SFCC's annual cycling and adventure Summer Camp will be in Bishop, CA, which is just south of Mammoth. We will arrive in Bishop on Monday June 20th with a departure on Saturday June 25th. There are many riding and hiking opportunities in and around Bishop. We will start with our traditional afternoon meet and greet with a short hike on the 20th. There will be rides and/or hikes everyday of various lengths and difficulty. Sags on days when needed! (thank you Steve/Boz!) Additionally, there will be a group potluck and/or dinner in town. We will be working out the details in the coming months ... stay tuned!
Tentative Agenda
(Ride With GPS routes to be provided shortly)
Arrive Monday 6/20 - easy afternoon spin then join for Happy Hour & Information meeting at the RV park 6:30. Bring your own beverage of choice. We will discuss the rides and options during the week.
Tuesday 8:30 am start with 2 rides 22 miles and 57 miles back in time for a Happy Hour @ 5:30 and the club will provide light snacks. BYOB
Wednesday will be the signature ride to Lake Sabrina and South Lake 49 miles with many options to shorten. Rose will also be leading a hike to Lake Sabrina which will be 3-5 hrs for those who choose not to ride. Please let Rose know if you want to join the hike or have questions rasquith50@gmail.com There will also be an option for a group dinner out to the local pizza joint on their patio.
Thursday there will be 2 options of rides which can be shortened. 39 miles and 72 miles out to Tom's place and Pie in the sky ride up to Rock Creek.
Thursday night Teri Gevry will be putting on a dessert bar for a special occasion at 7:30pm. There will awards given out and special prizes!!!
Friday the highlighted ride will be a drive to Independence and a classic climb up to Onion Valley. Teri will also be leading a hike to Kearsarge Pass which leaves from the top of Onion Valley Climb. This is a classic hike and stunning views (if there is too much snow its cancelled) She will also haul gear up to the top for riders doing the descent.
Saturday get away day
Note on the rides: Most of the rides are out and back so you can pick the miles. There are also 3 and possibly more added of short flatter loops or rides. The main rides will have SAG. There also may be some gravel rides included as we get closer. We continue to work on details and we get closer and more input
Logistics 
Headquarters for the Summer Camp will be Highlands RV Park. This is where we will meet to begin the rides, socialize after rides and have group activities. They have 103 sites with full hook ups and will start taking reservations Jan 1st. Please note this date as they will fill up quickly. Unfortunately, there is no tent camping or cabins at the RV Park. However, Bishop has many nearby hotels and a hostel. The Highlands RV Park is at 2275 N. Sierra Highway, Bishop, CA (760) 873-7616.
When making reservations, be sure to mention that you are part of the SFCC Summer Camp. Highlands RV Park will then group us together. This way we will have an SFCC camp within the RV camp J.
You can reserve with a credit card and cancel up till 4PM the day of arrival with no penalties. Sites are $50 per night and $45 with Good Sam discount. https://www.goodsam.com/campgrounds-rv-parks/california/bishop/highlands-rv-park-800000510/
Alternative camping is Browns Town Campground. They have tent and RV camping, and are 1.5 mi from Highlands. However, they do not open for reservations until April 1st. At this time there is no update on 2022 pricing. Address is 20 Shober Lane. Bishop, CA. 760-873-8522
https://brownscampgrounds.com/browns-town-campground/
For those of you who wish to stay in a hotel, there are quite a few hotels in the area which are within a couple of miles of Highlands RV park. A partial list includes:
Days Inn
Best Western
Comfort Inn
Holiday Inn
Vagabond Inn
Super 8
Additionally, Bishop has a hostel and there are Airbnb/VRBO options as well.
The committee does not feel there is an urgent need to book hotels at this time, but we strongly encourage RV reservations to be made as close to January 1st as possible.
For more information, contact Ed Keller at camp@sfcyclists.org