Welcome to the
Sierra Foothills Cycling Club Website !!!
Welcome to our website and cycling club. Club membership is open to all! Whether you're a racer, recreation rider, or just starting out, the Sierra Foothills Cycling Club wants you! Get to know more about our club in our FAQ, or drop us a line from our contacts list.
Our Mission
Our club's mission is to share our passion for bicycle riding through organized events, including a variety of weekly rides designed for both novice and experienced bicyclists of all ages.
Our Rides
Our group bike rides traverse the beautiful foothills of the Sierras in and around the city of Auburn. For more information about our rides visit: ride info. Join us to explore the area while having fun, getting fit, and meeting fellow cyclists.

---
Calendar Rides and Events
Wednesday - Downtown to Meadow Vista and back Wed, Sep 28, 8:30am
0 comments
Thursday - Railhead to Railhead Loop Thu, Sep 29, 8:30am
0 comments
Friday - AllPaceFriday Fri, Sep 30, 8:45am
0 comments
Saturday - SFCC Flwr Farm- Newcastle 21 mi Sat, Oct 1, 8:30am
0 comments
Saturday - Mt.Diablo, Morgan Territory Sat, Oct 1, 9:00am
0 comments
Sunday - Rollins-Dutch Flat-Drum PH-Casa Loma Sun, Oct 2, 8:30am
0 comments
Tuesday - C's the Day Tue, Oct 4, 8:30am
0 comments
Wednesday - Ridge & Baxter 1/18 Wed, Oct 5, 8:30am
0 comments
Thursday Ride Thu, Oct 6, 8:30am
0 comments
All Pace Friday Fri, Oct 7, 8:30am
0 comments
SFCC Annual Fall Club Picnic Sat, Oct 8, 8:30am
0 comments
Tuesday Ride Tue, Oct 11, 8:30am
0 comments
---
---
A Special Thanks to our Supporters
Visit these Auburn bike shops and receive SFCC member discounts on merchandise.
| | |
| --- | --- |
| | 943 Lincoln Way, Auburn |
| | 835 Lincoln Way, Auburn |
| | 437 Grass Valley Hwy, Auburn |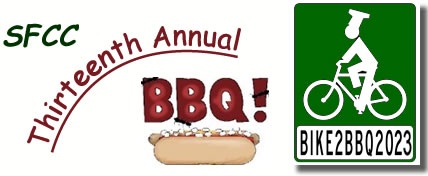 Date: Saturday, October 8, 2022
Location: Recreation Park in Auburn (map)
Tentative Schedule:
8:30 to 10:00 - rides start
11:30 - Appetizers
12:00 - BBQ and potluck
1:30 - Cleanup and take down

Our Ride Director, Pamela Conner, has three fun routes for us:
After ride potluck:

Appetizers: 11:30 am BBQ: 1200-130 pm. Please bring a salad, dessert, or appetizer, or dish of your choice to share. SFCC will provide burgers and veggie burgers and sodas. Please RSVP by 10/5 via club email (already sent out).
Please no alcohol or glass containers allowed under the conditions of our permit.
---
The 2022 Enduro Ride Series will kick off for its third year!! What is an Enduro ride you might ask? It is a 60+ mile ride held once a month on the 2nd Saturday of each month. It is a chance for our great team of ride leaders to host their favorite long and challenging adventure rides!
Please note this is a tentative schedule as exact dates and locations may change according to weather and various conditions. Check our club calendar for times and details as we approach the ride dates.
| | |
| --- | --- |
| October 1 | Mt. Diablo |
| November 12 | Levi's 2022 Medio (Adventure Ride) |
| December 10 | Folsom Lake Loop |
Questions about the series? Contact ride director Pamela Connor at rides@sfcyclists.org .
---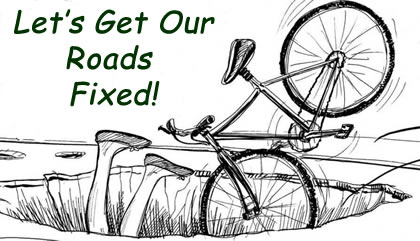 Did you know that you can get potholes repaired by Placer County simply by filling out a form in the Placer County Connect App on your smart phone? The county will also clear bike lanes blocked by overgrown vegetation and prune around "Share The Road" signs that sometimes disappear behind overgrown trees and shrubs. Hazards reported to the Placer County are a real liability for the county, so their road crews usually get them repaired within a week or two.
Click here to get the full details provided by Steve Boswell on how you can make our roads safer for you and the rest of the cycling community.