SFCC Club History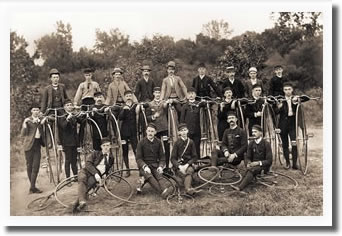 The Sierra Foothills Cycling Club officially opened to membership in early February of 2010 following several months of planning and development. We owe the initial idea to our first time VP, Joe Hernandez who suggested a Club as we rode in the summer of 2009 to join others for one of our informal Wednesday morning group rides. We always felt fortunate to have so many beautiful bike routes in our area with such a diversity of venues and challenges and it was clear that we weren't alone. No matter which route we choose we always saw a lot of other riders—it was obvious that there were a lot of cyclist in the Auburn area. The mystery was why we didn't have a general purpose bike club. A club would enable riders to enjoy the camaraderie of like minded people, discover new routes, promote bike events and advocate for cycling safety. Even though the three bike shops in town sponsored rides and other events and a women's cycling club existed, there hadn't been a general road cycling club in the Auburn area since the demise a number of years ago of the Auburn Bike Club.
The need for a Club in this area was clear. Over the following weeks Joe's idea met with enthusiastic interest and led to our first Club formation meetings in October of 2009. Six of us who regularly rode together, Bill Beadle, Ann Downey, Joe Hernandez, Larry Matz, Larry Merlo and Ted Moore with the assistance and support of Dan Tebbs and Chris Townsend began once a week meetings at Depoe Bay coffee shop in Auburn. This steady and productive effort led to the first designated board members, development of a club structure, website, mailing address, bank account, membership applications and myriad other details.
As it turns out we couldn't have picked a better time to start a new cycling club. Announcement of the Amgen Tour's first stage from Nevada City to Sacramento produced tantalizing rumors of a route through Auburn. By February it was official—the Amgen tour with Lance Armstrong, Levi Leipheimer and many others of the world's best professional bike racers were coming through town. Local excitement and support continued to grow as the Chamber of Commerce, city and county government agencies, bike shops and others announced "2010--Auburn Bike Year". Spring and summer criteriums were scheduled for Downtown and Old Town, two excellent centuries were planned for June and other cycling opportunities quickly became apparent. From this modest beginning the Club now provides a timely and exciting means for the many area cyclists to enjoy, and become involved with the myriad unique foothill cycling opportunities.