Ride Information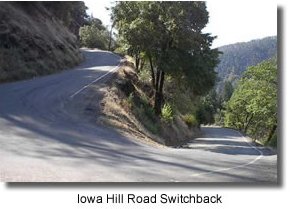 Our group bike rides traverse the beautiful foothills of the Sierras in and around the city of Auburn. Cycling in this area offers an amazing diversity of scenic beauty, historical venues and safe roadways. Our ride options vary in distance, topography, and pace to match the abilities and interest of all riders.
Rides vary from shorter, typically lower elevation routes through rolling oak grasslands to longer rides reaching higher elevations with dense forests and scenic views. The ride profiles range from those with short gentle climbs to those that include challenges like the 20% pitches on the 1.8 mile climb to the old gold rush town of Iowa Hill.
Rides often visit one of the many historic towns and small communities nearby such as Loomis, Lincoln, Colfax, Foresthill, and Dutch Flat. Longer rides may take us all the way to the high Sierras to places like Robinson Flat or French Meadows or to more distant locations.
Riders should review ride descriptions to select those that meet their interest and ability. When in doubt the listed ride leader can be contacted for more information.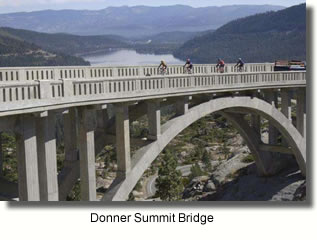 Safe Bicycling Practices
All club riding practices shall be in accordance with state and local traffic laws. Riding practices required by the SFCC include but are not limited to the following:
Hard shell ANSI approved (or equivalent) cycling helmets must be worn by members and guests on all club rides.
Riding to the right, with traffic.
Always ride in a safe, courteous manner which reflects positively on the SFCC and bicycling.
Ride leaders may, at any time, request a member or guest not participate in a club ride if the ride leader determines the safety of the participant, member, guest or others may be in any jeopardy.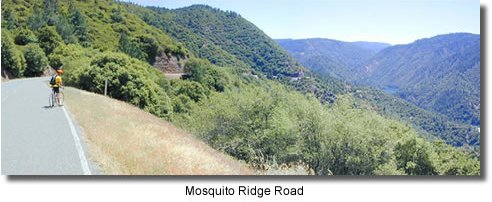 What to Bring to the Ride
Riders should strive to be independently equipped to make minor field tire repairs etc. to avoid burdening fellow riders…and, to possibly keep from walking home.
Must have:
Bike helmet (check for good fit, they must be snug to protect you).
Spare tube (verify size and stem type)
Tube patch kit. Just in case you get a second or more flats on a ride.
Tire levers (necessary to get the tire off the rim)
Water bottle (or two or more). Come to the ride with the bottles filled up.
Pump (the on-the-bike type). Road bikes need the high pressure type (test to make sure you can actually pump it up to the required pressure...not all pumps are alike and some are much better than others.
Some way to carry the above: A seat post mounted bag is most common, however some choose one of the hydration pocket backpack types and a few use jersey pockets alone!
Nice to Have:
Map clip...a means to fasten your route map to the front of your bike. Or...
A cyclo-computer with GPS (eg, Garmin) that can store a downloaded route
Food...trail bars, bananas, etc. Many of the rides go long distances without access to stores.
Money...a $20 bill can sometimes be your best tool!
Trip computer...handle bar mount combo odometer, speedometer, etc.
Sun glasses, sun tan lotion, lip balm, small tissue packets, etc.
Mirror, either bar-end or one of the clip-to-helmet or glasses types. Use it, but don't rely on it...still look over your shoulder.
CO2 systems...great time savers to quickly pump up the tire and perfect for those lacking upper body strength. However, a frame pump should still be carried for backup.
Tire repair boot. A small (2" x 1") piece of rubber cut from a discarded tire. In cases when your tire develops a large rip that allows the tube to penetrate the tire when inflated. Place the boot between the inside of the tire and the tube.
Cell phone...this could be a real life saver!
Combination field repair tool...with wrench, screw driver, allen driver etc.
Chain repair tool...and, a quick link to repair a broken chain
Cool weather gear such as full legged tights, wind/rain jackets etc.