SFCC has a vision of a foothill community that is safe for all riders, with improved bicycle infrastructure throughout Placer County. Towards that goal, SFCC formed the Bicycle Advocacy and Safety Team (BAST) as an active committee in mid-2022.
The BAST team builds on the earlier efforts of our clubs founders including Larry Matz, Joe Hernandez and Larry Merlo (see club history page),. Several of our club members and former Officers and Directors also worked with the Placer County Transportation Planning Agency (PCTPA) in 2018 to develop a list of Priority Bikeway Projects that was included in Placer County's 2018 Regional Bikeway Plan. This infrastructure planning is in the process of being updated by PCTPA. SFCC and BAST are looking forward to continuing our involvement in these important planning processes.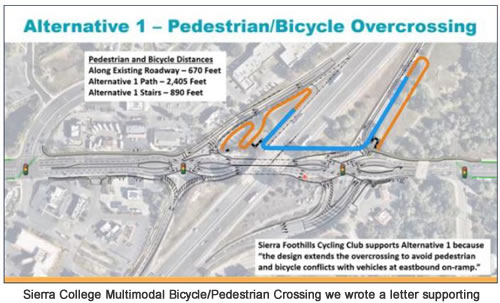 BAST 2023 TEAM GOALS INCLUDE:
Becoming more proactively involved in local planning processes.
Advocating for improved cycling infrastructure (bike lanes, better signage, etc.).
Participating in community events to educate the public on safe cycling (and passing), with the goal of eliminating negative social media posts threatening aggression towards bicyclists
Improving the bicycle etiquette (and safety) of our own riders.
Working with local law enforcement to hold aggressive/unlawful drivers accountable.
Working with the public towards education of new laws and regulations regarding bicyclists and motorists.
Grant writing to support these (and other BAST) initiatives.
Increasing involvement from Club members to assist BAST in its efforts.
BAST ACCOMPLISHMENTS TO DATE:
BAST began to develop more working relationships with local transportation planning agencies, city managers, law enforcement agencies, and other local officials. Through this process, BAST is becoming recognized as an important representative of the local cycling community.
Documented easy to follow steps for getting road hazards in Placer County repaired, utilizing the Placer County website and phone app. We received positive feedback from membership that they had success in getting potholes and other road hazards repaired and remedied by Placer County, the City of Loomis and Caltrans.
Worked with consultants, engineers and city planners on a compromise for the design of a Pedestrian/Cyclist overpass at I-80 and Rocklin Road that will improve cyclists and pedestrian's safety, as part of the Rocklin Road Sierra College Corridor Multimodal Enhancements Project. SFCC provided a letter of support to the City of Rocklin, in support of its efforts to obtain project funding through transportation grants.
Issued a letter (and provided public testimony) from SFCC to the City of Rocklin opposing the high-density residential and mixed-use commercial College Park Project near Sierra Community College, due to its lack of mitigation for the project's negative impact on bicycle safety. As a result, the builder has committed to upgrade their original design by adding designated and colored bicycle lanes along Sierra College Blvd.

Performed a roadside traffic observation and analysis (from a bicyclists' safety perspective) at the request of Placer County Department of Public Works for BAST input. PCDPW contacted BAST for feedback on a proposed safety enhancement to reduce motor vehicles cutting into the shoulder as they approached a blind intersection. Steve Boswell, a BAST member, was able to take pictures and document his observations and agreed that the proposed placement of reflective markers along the fog line should not create a safety issue for cyclists. The PCDPW reacted quickly and has already installed these reflective markers on Laird Rd at Quinn Place.
Documented reckless motor vehicle passes and 3 foot passing law violations through bike video cameras. BAST has been attempting to develop a working relationship with the CHP. After its Accident Investigator reviewed the submitted videos, the CHP issued two warning letters to registered vehicle owners advising them of March 2023 vehicle code violations. These violations were also entered into the CHP Incident database, as well as an independent database to help facilitate transportation planning.
And we are just beginning. AND, WE NEED YOU!
Just as most of our Club members enjoy the comradery and athletic challenge of group rides, working on BAST is a group effort. The greater participation we have from our Club, the greater achievements for advocacy and safety we can achieve in Placer County. These initiatives are important FOR ALL OF US, and it will take a planned and sustained effort from all of us.
If you share our vision of a foothill community that is safe for all riders, with improved bicycle infrastructure throughout Placer County, please drop by one of our monthly meetings or contact Dana Hofheinz, BAST Chair, at advocacyandsafety@sfcyclists.org.
BAST Team Members:
The members of our BAST have spent time attending city and county planning meetings, writing letters and meeting personally with elected officials, participating in community projects for road and safety enhancements, contacting officials about road hazards and maintenance concerns. In regards to the members names in alphabetical order: Don Baldwin, David Bodick, Steve "Boz" Boswell, Christopher Dort, Gary Edmundson, Keith Hallsten, Joe Hernandez, Dana Hofheinz, Larry Matz.
Bicycle Safety and Advocacy Links:
California Bicycle Coalition
Sacramento Area Bicycle Advocates
League of American Bicyclists
PeopleforBikes.org