Ride Leader Guidelines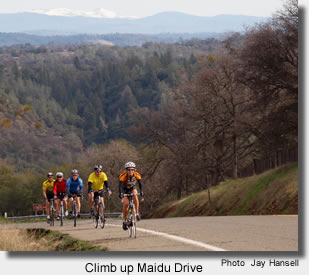 Providing club members with a variety of interesting and enjoyable rides of different distances, elevation gains and pace is our primary club mission. It is however highly dependent on club members leading rides on routes they enjoy. Without your help we won't have the variety or frequency of rides we would all like. Leading a club ride is the simplest and most important contribution you can make to your club. It's also fun and easy to do. This is your opportunity to dream up unique and interesting routes or simply share a favorite route with your friends. Of course it can also be a little bit intimidating but there's really nothing to be worried about. Those who decide to do the ride have read the description and are there because that's the kind of ride they want to do. They're riding because they enjoy it and are predisposed to have a good time.

These guidelines and suggestions are intended to provide answers to questions you may have along with the system and forms the Club uses. In addition to what's here, a Board member is always available to help new ride leaders develop the route, and assist in leading the ride. Simply ask any Board member and we'll be glad to help. Other experienced Ride Leaders are also available and willing to help.

Although this guidance includes several items that are required on each ride (e.g. helmets, liability, waiver for non-members), the suggestions allow for ride leaders to use their own good judgment to promote safe and fun rides.
Ride Leaders are the representatives of the Sierra Foothills Cycling Club and the first contact that potential new members have with the Club. Be as informative and friendly as possible. Take the time to ride with them and be available to help or answer questions. Your planning, enthusiasm, and leadership on the ride will make the ride more enjoyable for everyone.
Planning the Ride
Route sheets that provide route directions in text should be available for each ride. Examples are available in our ride archive and at every ride. The Ride with GPS website (ridewithgps.com) will enable you to design a route. Although RWGPS is extremely helpful and saves time, it may not be entirely accurate and may not distinguish between dirt and paved roads. Ride leaders should verify that all roads are accurately depicted and appropriate.

Route sheets should:

List road names, mileage to each turn, and turn direction.
Use large enough print that reading glasses aren't necessary.
Note rest/regroup stops and availability of water, food, and restrooms.
Ride leader name and cell phone number.
Make as many copies as riders you expect.
Practical Step by Step Guidelines
Pick a route.  There are three methods to choose from:

Copy a route sheet you already have in your possession, making sure to put your own name and cell phone number on it.
Create a route using Ride with GPS. For help using Ridewithgps, go here.
Pick a route from our route archive. Please be aware that routes in the archive have not necessarily been vetted.  You need to verify that the route is correct, or request that the owner of the route verify accuracy, or have the Ride Director do it.

Print the cue sheet.  Please use Qvert.

You will need to enter the route number in the box on the right hand side of the screen.  This number is visible when you are in the Ride with GPS file for the route you have picked.  It is part of the URL…example:  http://ridewithgps.com/routes/26721289 (the route number is 2672128).
You can edit the text of the cue sheet, add instructions, change colors, change font size etc.  Make sure you add your phone number.
Pick the layout of your printed form and follow the prompts.  If the cue sheet doesn't't look nice, go back and edit it some more, or pick another print layout,  then try again.

Print out the ride leader forms;  the ride_roster.pdf , the ride_waiver.pdf , and the minors_waiver.pdf
Also print out and bring an insurance accident form; ride_acc.pdf.
Once you decide on a route (at least two days before your ride), send out an email to the entire club to announce your ride.  You can send an e-mail out to the group by sending it To: sfcc_group@googlegroups.com.  Note that YOUR e-mail address must be registered in the sfcc_group directory.  To send a RWGPS link of your route in the body of your email, bring the route up in another tab/window, copy the address, then paste it in your email. The ride director will typically copy & paste the contents of your e-mail into the club ride calendar. 
Some rides however, should be included in the calendar well in advance of two days. This would include the longer Sunday rides and enduro rides. To send the ride details to the ride director, fill out and submit a ride description form.
If there is a possibility of a last minute ride cancellation due to rain, smoke, fog, etc. include this in your e-mail and a time the day of when you will send out a cancellation e-mail. This should be no less than 1.5 to 2 hours before the ride start.
The day of the ride, arrive at least 20 minutes before the ride is scheduled to start.  Pass out the clipboard right away with the route sheets, get you and your bike ready, then walk around with the ride roster to ensure everyone is signed up.

Day of the Ride
Pre-Ride

Assemble the group of riders and introduce yourself and any guests. Let guests know about the Club and how to join.
Be certain all riders have signed the Ride Roster, non-members have signed the Accident Waiver and Release of Liability form, everyone has a route sheet (who wants one), and everyone has a helmet.
Minors: Riders under 18 must complete the Parental Agreement form (also part of the Liability Waiver) and have it signed by their legal guardian
Briefly describe the route, any hazards, tricky turns, regroup and water or food stops.
Remind riders to initial out on the Ride Roster at end of ride so you won't have to worry about lost riders.
Stress the need to ride single file and stop at intersections in addition to obeying other traffic laws. Remind riders to point out hazards, approaching vehicles, and upcoming turns for following riders.
With your cell phone, take a photo of the sign-in roster. Here you will have the phone numbers of the riders' emergency contacts with you.
Ride

Safe, legal, fun and enjoyable rides are the objective of every club ride. To meet these objectives it is Club policy that no riders are ever dropped. Ride leaders must account for all riders either by the rider's arrival at the end of the ride or knowledge of the rider's voluntary departure from the route.
Riders leaving the route must advise the ride leader to enable accountability.
It is recommended that all riders carry identification with the name and contact information of who to call in the event of an emergency.
Sweeping the course is a policy. It is important that new members, guests, and slow riders are not left behind or forgotten. Rides that are not swept must be pre-announced via email and the calendar listing.
Post-Ride

Make sure all the riders have returned and have signed out on the Ride Roster. You may have to drive the route in reverse to assure that all riders are ok.
NOTE: You do not need to do anything with the Ride Roster and any signed waivers once you are assured all riders are back safely.
Thank you for being a leader! Our members appreciate your leadership. The Club wouldn't be much fun without Ride Leaders and their rides. Mentor a newer member with Ride Leader potential, they are the lifeblood of our Club.
Revised 11/1/2021