Welcome to the
Sierra Foothills Cycling Club Website !!!
Welcome to our website and cycling club. Club membership is open to all! Whether you're a racer, recreation rider, or just starting out, the Sierra Foothills Cycling Club wants you! Get to know more about our club in our FAQ, or drop us a line from our contacts list.
Our Mission
Our club's mission is to share our passion for bicycle riding through organized events, including a variety of weekly rides designed for both novice and experienced bicyclists of all ages.
Our Rides
Our group bike rides traverse the beautiful foothills of the Sierras in and around the city of Auburn. For more information about our rides visit: ride info. Join us to explore the area while having fun, getting fit, and meeting fellow cyclists.

---
Calendar Rides and Events
Thursday - Short Colfax and Volley Thu, Dec 1, 9:30am
0 comments
Friday - AllPaceFriday Fri, Dec 2, 9:30am
0 comments
CANCELLED: Sunny Saturday Sat, Dec 3, 9:30am
0 comments
CANCELLED: Stanford Ranch Loop from Griffith Quarry Sun, Dec 4, 9:30am
0 comments
Tuesday - Baxter Factor Reversed Tue, Dec 6, 9:30am
0 comments
Wednesday - Monica's May Meanders-From Loomis-37.7mi 2513' Wed, Dec 7, 9:30am
0 comments
Thursday - Short Colfax and Volley Thu, Dec 8, 9:30am
0 comments
All Pace Friday Fri, Dec 9, 9:30am
0 comments
Saturday - Folsom Lake Enduro Sat, Dec 10, 9:00am
0 comments
Saturday Spintacular Sat, Dec 10, 9:30am
0 comments
Sundaze Sun, Dec 11, 9:00am
0 comments
Tuesday Ride Tue, Dec 13, 9:30am
0 comments
Wednesday Ride Wed, Dec 14, 9:30am
0 comments
---
---
A Special Thanks to our Supporters
Visit these Auburn bike shops and receive SFCC member discounts on merchandise.
| | |
| --- | --- |
| | 943 Lincoln Way, Auburn |
| | 835 Lincoln Way, Auburn |
| | 437 Grass Valley Hwy, Auburn |

Where: Granite Bay Community Park, 6010 Douglas Blvd (map)
When: Sunday, December 4th
Time: 9:30 am
This is a special event for a Riding Skills Clinic hosted by Body Concepts Racing Team and Matt Conidaris, Team Manager. BCRT is providing this to SFCC as a thank you for helping them staff the Road Marshall and other positions for their Winchester Circuit Race in May of 2022.
The format for this years skills clinic will be for our SFCC riders to break out into smaller riding groups with 1 or 2 Body Concepts Racing Team Members providing Coaching and to work on various riding skills during the 40 mile ride with multiple regroups.
There is the opportunity to have a shorter ride version if there is enough interest (say 25 miles or so). And maybe this shorter ride might also be of interest to riders who are recovering from an injury or are newer to group riding.
- SFCC Members Only -
For more info and to make your RSVP, Click Here for event sign up. Please register by 11/27/2022.
---
SFCC Kit is now open for orders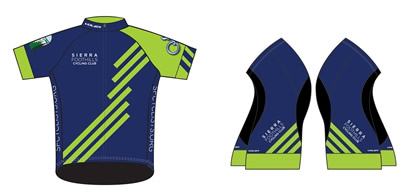 The order window is once again open for you to order the new SFCC jersey, jacket, shorts, arm warmers, etc. We are keeping the same design/color combination as the last order - dark blue with lime green - with the exception of the anniversary date that was printed on them.
The Voler link for ordering is: https://www.voler.com/custom/ordering/li/44188.
You will have until midnight on December 5th to place your order for a January 20, 2023 ship date. If you're interested in lighter weight fabrics, here's your opportunity to order items such as the Velocity Ascent Jersey, perfect for hot conditions (climbing/summer), sun protector sleeves and/or a sleeveless jersey. All orders will be sent to you, so no need to schedule a pick up.
---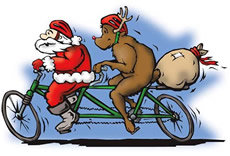 Holiday Mixer
Where: Victory Velo (map)
When: Friday, December 9th
Time: 6:30 - 8:00 pm
Save the date for the 2022 SFCC Holiday Mixer to be held at Victory Velo Bike Shop. It's always a fun time and great to see everyone sans helmet.
What to bring? an appetizer or a dessert . Think finger foods. Your club will provide water and sodas, cups, plates, and napkins. You may bring your favorite wine or spirit.
Let's thank the Tebbs and Victory Velo Bike Shop for providing the venue and hosting us.
Please RSVP (register) by Thursday, December 8th (check your email for membership invite).
Questions? Contact Jan Van Waardenberg, SFCC VP, vp@sfcyclists.org. As always, bring your spouse/partner/special friend. Use the "add guest" button when you register. This will help us plan the event.